One of my readers, and a close friend, sent me this story of London Stretcher Railings, which I had never heard before. I've walked by them many times and never really taken any notice, let alone wondered about their origin. The picture above shows an example of these Stretcher Railings and the one below is a picture of their original use. A surprising, and fascinating, present-day relic of London's history from the "Blitz" of World War II.
The nightly bombing of London during the "Blitz" resulted in mornings full of ambulances, police, citizens, and Air Raid Protection officers, sifting through rubble to find the dead and injured. These rescue operations required stretchers in large numbers. The same was true of other cities that were the target of German bombs, but London received the majority of the attacks, damage, destruction and casualties. London therefore required more stretchers.
The British government apparently anticipated that such medical equipment would be needed. Somewhat unusual for government agencies anywhere. They ordered the manufacture of more than half a million stretchers in the years before World War II began. These stretchers, which were no more than two steel poles, with tow cross supports, with a stretch of wire mesh in the middle. They were quick and cheap to mass produce. They were also easier to clean than conventional wood or canvas stretchers.
There was a widespread belief that the German bombs might contain gas or other poisons, probably because all sides had used similar weapons to horrific effect in World War I, only a few years before and, certainly, within living memory: The steel stretchers could easily be decontaminated if necessary.
They worked well, but they were extremely uncomfortable and, I imagine, quite heavy to lift and carry around. The manufacturing process produced over 600,000 of them altogether.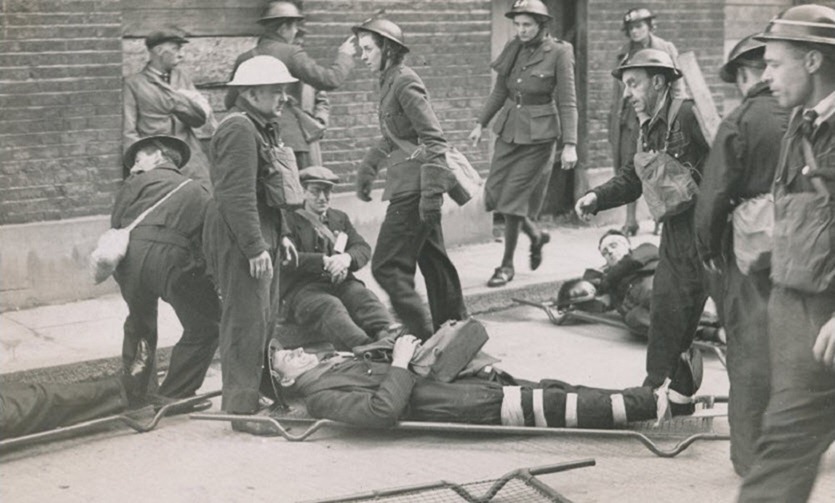 You can see from the picture above what they looked like.
During the war, many of London's streets lost their original metal railings separating the buildings from the pavements (sidewalks): Those original railings were used in the manufacture of weaponry to serve the war effort.
When the War was over, London City Council was left with a huge stockpile of uncomfortable stretchers that no-one really wanted. So, rather than just through them away, some enterprising Council member/employee decided to use them to replace the missing railings. The stretchers were welded together vertically, fixed onto poles at the ends, and sunk into concrete. The two kinks in the poles, designed originally so that they could be rested on the ground and picked up easily, can still be seen on the railings today.
Today there is even a Stretcher Railings Society, which campaigns for the promotion, protection, and preservation of London Stretcher Railings. The society's website provides a map of Stretcher Railing locations, like the one you see on the lead picture of this blog.
Another Bucket list visit, perhaps, or just an excuse to walk around London's streets and enjoy its history.